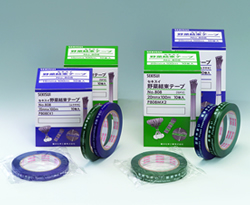 Vegetable bundling tape No.808
Specifically designed for vegetable bundling, this tape provides reliable quality and superior diversity for use in product image improvement and price labeling, etc.


| | |
| --- | --- |
| Color | |
This is a non-polluting type tape where the glue does not stick to the vegetables. It can be securely bundled by sticking the ends together. It is a tape which is water resistant, weather resistant and strong and has conformed with the specification test conducted under the Food Products Sanitation Law.
Usage
Separating and bundling fresh fruit and vegetables
Labeling of prices

Tape Capacity Indicators
Performance

Test Items

Unit

No.808

Thickness of tape

mm
0.067

Thickness of base material

mm
0.04

Adhesive strength

N/10mm (g/10mm)

3.40 (347)

Self rear-adhesive strength

N/10mm (g/10mm)
1.30 (132)

Self-adhesive strength

N/10mm (g/10mm)
10.0 (1,020)

Unwinding force

N/10mm (g/10mm)
0.30 (306)

Tensile strength

N/10mm (kg/10mm)
45.0 (4.59)

Elongation

%
125
The figures in the table above are measurements and are not guaranteed values
Specifications

Size W(mm)xL(m)

Unit packaging
(rolls)

One package
(rolls)

15 x 100
10
80
20 x 100
10
80
Please feel free to contact us about printing tapes.
---
References
Cellophane tape No.252

Cellophane tape for printing

Bag sealer tape C type

Bag sealer tape E type

Vegetable bundling tape No. 808

Paper masking tape No.852

Eslon tape No.458

Non-Vinyl Chloride Can Sealing Tape No. 458H

Shine tape No.25

Fixlon tape No.816

Cutlon tape No.810