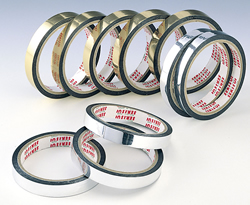 Shine tape No.25
High performance, gorgeous tape for?decorating and sealing containers.
Because of its aluminized, polyester base film, it releases a beautiful, metallic, brightness. It is used to decorate high performance and gorgeous products. It is also used for sealing containers.
Usage
Performance

Test Items

Unit

No.25

hickness of tape

mm
0.046

Thickness of base material

mm
0.025

Adhesive strength

N/10mm (g/10mm)
2.55 (260)

Tack

Ball No.

18

Unwinding force

N/10mm (g/10mm)
1.47 (150)

Tensile strength

N/10mm (kg/10mm)
61.25 (6.25)

Elongation

%
140
The figures in the table above are measurements and are not guaranteed values.
Specifications

Size W(mm)xL(m)

Unit packaging(rolls)

One package(rolls)

12 x 30
10
240
15 x 30
10
120
18 x 30
10
120
24 x 30
10
120
---
References
Cellophane tape No.252

Cellophane tape for printing

Bag sealer tape C type

Bag sealer tape E type

Vegetable bundling tape No. 808

Paper masking tape No.852

Eslon tape No.458

Non-Vinyl Chloride Can Sealing Tape No. 458H

Shine tape No.25

Fixlon tape No.816

Cutlon tape No.810