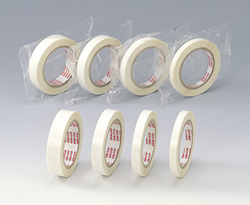 Fixlon tape No.816
Tape with special film that rarely leaves adhesive residue.
Used for fixing and bundling.
Even after long exposure to heat and light there is little adhesive residue. Because of the self-adhesive`s strength, it also sticks to embossed surfaces. Because a special film is used, it has the same strong, stretch-ability as filament tape
Usage
Attaching the electrical components and electrical parts of refrigerators, ventilator fans, etc.
Fixing the parts of office machines, correspondence machines, etc.
Fixing and bundling furniture and instruments.
Tape Capacity Indicators
Performance

Test Items

Unit

No.816

Thickness of tape

mm
0.085

Thickness of base material

mm
0.06

Adhesive strength

N/10mm (g/10mm)
3.92 (400)

Tack

Ball No.

15

Unwinding force

N/10mm (g/10mm)
1.08 (110)

Tensile strength

N/10mm (kg/10mm)
196 (20.0)

Elongation

%
35

Adhesive strength of embossed face

N/10mm (g/10mm)
2.63 (268)

10% Modulus

N/10mm (kg/10mm)
87.7 (8.95)

Heat resistance

Acrylic coated board

-
Good

PP resin board

-
Good

ABS resin board

-
Good

Resistance to

climatic conditions

Acrylic coated board

-
Good

PP resin board

-
Good

ABS resin board

-
Good
Measurement conditions/23'C,65%RH
Heat resistance/60'Cx5days
Resistance to climatic conditions/ Ultraviolet rays carbon arcx72hr
The figures in the table above are measurements and are not guaranteed values
Specifications

Size W(mm)xL(m)

Unit packaging(rolls)

One package(rolls)

12 x 50
1
120
15 x 50
1
80
19 x 50
1
60
25 x 50
1
60
---
References
Cellophane tape No.252

Cellophane tape for printing

Bag sealer tape C type

Bag sealer tape E type

Vegetable bundling tape No. 808

Paper masking tape No.852

Eslon tape No.458

Non-Vinyl Chloride Can Sealing Tape No. 458H

Shine tape No.25

Fixlon tape No.816

Cutlon tape No.810