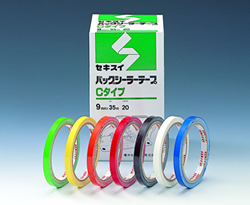 Bag sealer tape C type
7 color variation, cellophane based, sealing tape.
Bag bread, cookies, vegetables, screws and many otherkinds of parts and small items with Sekisui`s bag sealer tape C type and our exclusive bag sealer.
Usage
Business of shops that deal with products with many aims
Packaging of products containing much moisture
Discrimination and packaging of paper cups and other kinds of simple tableware
Tape Capacity Indicators
Performance

Test Items

Unit

Bag sealer tape C type

Thickness of tape

mm
0.051

Thickness of base material

mm
0.035

Adhesive strength

N/10mm (g/10mm)
3.14 (320)

Tack

Ball No.

17

Unwinding force

N/10mm (g/10mm)
1.72 (172)

Holding power

N/10mm (kg/10mm)
32.7 (3.33)

Tensile strength

%
23

Suitability for
bag sealer

Cuttability

-
good

Sealability

-
good
The figures in the table above are measurements and are not guaranteed values.
Specifications

Size W(mm)xL(m)

Unit packaging(rolls)

Small,wrapped box(rolls)

One package(rolls)

9 x 35
1
20
200
---
References
Cellophane tape No.252

Cellophane tape for printing

Bag sealer tape C type

Bag sealer tape E type

Vegetable bundling tape No. 808

Paper masking tape No.852

Eslon tape No.458

Non-Vinyl Chloride Can Sealing Tape No. 458H

Shine tape No.25

Fixlon tape No.816

Cutlon tape No.810