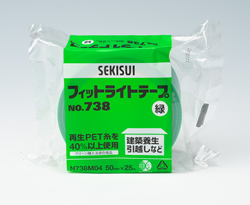 Fit Light Tape No. 738
Environmentally considerate tape for moving and construction curing
| | |
| --- | --- |
| Color | |
Uses PET products such as PET bottles and clothes as raw materials
Segmented and recycled at the molecular level Uses recycled PET fiber in the vertical threads
Usage
Uses recycled PET fiber in the vertical threads of the tape.
More than 10% reduction in CO2 during incineration
(compared to existing company products)
Light-weight design, compact even for 50m rolls
(similar to existing company 25m rolls). Easy to carry.
Flexible and sticks well even on uneven surfaces.
Can stick on polyethylene and polypropylene laminated paper and is also stackable.
Easy to write on with oil-based ink.
Can be removed completely with special glue.

Tape Capacity Indicators
Performance

Test Items

Unit

No.738

Thickness of tape

mm
0.105

Adhesive strength

N/10mm (g/10mm)
2.2 (224.4)

Tack

Ball No.
16

Tensile strength

N/10mm (g/10mm)
40 (4080)

Elongation

%
25
The figures in the table above are measurements and are not guaranteed values

Specifications

Size W(mm)xL(m)

Unit packaging
(rolls)

One package
(rolls)

50 x 25
1
30
50 x 50
1
30
---
References
Cloth tape No.600

Cloth tape No.600S

Cloth tape No.600V

Colored Cloth No.600V

100% recycled PET fiber used Cloth Tape No. 600R

Fit Light Tape No. 738|SEKISUI

Vinyl cloth No.750

New cloth tape No.760

Cloth Light No.780

Clear cloth No.781