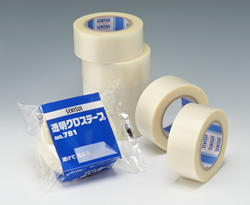 Clear cloth tape No.781
Because of its semi-transparent quality, the case design and lettering can be clearly seen.
It can be torn by hand, adding height to its excellent work, and the special cloth really protects packaged items.
In addition, its excellent capacity for practical use in low temperatures allows for operations outside of cold rooms and even in low temperature warehouses.
Usage
Packaging original cases
Packaging many of the items mentioned
Short time packaging operations
Packaging where opening it is important
Tape Capacity Indicators
Performance

Test Items

Unit

No.781

Thickness of tape

mm
0.151

Thickness of base material

mm
0.117

Adhesive strength

N/10mm (g/10mm)
1.72 (176)

Tack

Ball No.

17

Unwinding force

N/10mm (g/10mm)
17(173)

Holding power

mm
0.2

Tensile strength

N/10mm (kg/10mm)
65.6 (6.69)

Elongation

%
13.5
The figures in the table above are measurements and are not guaranteed values.
Specifications

Size W(mm)xL(m)

Unit packaging(rolls)

One package

50 x 50
1
30
---
References
Cloth tape No.600

Cloth tape No.600S

Cloth tape No.600V

Colored Cloth No.600V

100% recycled PET fiber used Cloth Tape No. 600R

Fit Light Tape No. 738|SEKISUI

Vinyl cloth No.750

New cloth tape No.760

Cloth Light No.780

Clear cloth No.781