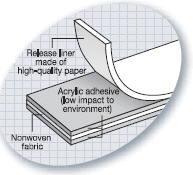 Long-term seller and environmentally friendly

Double-faced Tape 5782 for Fixing of Interior Parts
Our double-faced adhesive tape 5782 has been developed to adhere to molded products made from resin (e.g., polypropylene), as well as polyurethane foams. This tape suppresses the emission of VOCs (volatile organic compounds) and odor to fulfill "less impact on both environment and humans."
Advantages
- The VOC emission is substantially reduced compared to current products.
- The tape provides excellent adhesion against adherends made from olefins, such as PP and PE, and urethane foams.
- The tape improves the cold adhesion performance compared to current products.
- The tape is free from the thirteen sick house syndrome chemical substances regulated by the Ministry of Health, Labour and Welfare that are harmful to human bodies.
Applications

Characteristics
| | |
| --- | --- |
| VOC emission (under 90'C and 30-minute heating) | Comparison of -10'C cold peeling resistance (PP plate) |
| | |
Item

Unit
Low environment impact tape
5782
Current product
Measuring conditions

Thickness

um
130
130
Conforming to JIS Z0237?
Adhesion (stainless steel)
23'C
N/25mm
18.6
16.7
Adhesion (PP)
-10'C
4
3.0
0'C
10.0
8.8
23'C
15.8
13
Ball tack
1/32"
30
13

Holding performance
(40'C)

mm
0.2
0.4
Conforming to JIS Z0237 (load: 1 kg)

Softening point
(PP plate)

'C
over 150
132
Load: 500 g, Heating speed: 3'C/5 min
* Data are only references; they are not guaranteed values.
---
References
Low-smell and Ultra Low-VOC Double-faced Tape 5782LSV

Environmental Conservation - efforts of various industrial sectors toward low VOC emission

Setting Single-faced Adhesive Tape#735A for Fixing of Wire harness

Double-faced Tape 5782 for Fixing of Interior Parts

Double-faced Tape 586 for Oily Surface Tacking |