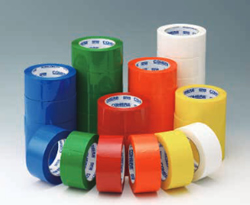 Supreme tepe No.1182 colored
We have developed a color version of Evercel OPP tape.
Its functions and qualities are the same as those of Evercel OPP tape No. 820EV. We have used all 6 color variations.
For packages where image is important, we have tape to meet your diverse, distinguished needs.
Usage
Packaging cardboard boxes withautomatic sealing machines
Packaging for export
Products where image is important
Tape Capacity Indicators
Performance

Test Items

Unit

1182 colored

Thickness of tape

mm
0.052

Thickness of base material

mm
0.03

Adhesive strength

N/10mm (g/10mm)
2.7 (275)

Tack

Ball No.

17

Unwinding force

N/10mm (g/10mm)
0.85 (86.7)

Tensile strength

N/10mm (kg/10mm)
40 (4.08)

Elongation

%
140
The figures in the table above are measurements and are not guaranteed values.
Specifications

Size W(mm)xL(m)

Unit packaging(rolls)

One package

Color
36 x 100
6Rolls(Flatpack)
48
(White)
48 x 100
6Rolls(Flatpack)
36
(White)
36 x 1,000
1Roll(shrink)
8
(White)
48 x 1,000
1Roll(shrink)
6
(White)
---
References
Evercel OPP No.820EV

Evercel OPP tape

Evercel OPP No.835EV

Supreme No.1182 colored

Orien tape No.830

Tough light No.835

Orien spat No.830S